Oil and Gas Storage Buildings
Pavilion Structures storage buildings are tough and durable for the harsh conditions prevalent in locations throughout the oil & gas industry.  Our fabric buildings are ideal for use as equipment maintenance and equipment storage buildings, aggregate storage, material processing and handling buildings as well as for temporary structures used for everything from accommodations and meals to office space.
The massive clear-span work space of a Pavilion Structure makes movement of people, machines, and material easier in a well lit and protected space.  The modular designs of the buildings and the short timeline for building installation increases the utility of these structures.  Daytime lighting is rarely required as the translucent covers allow a tremendous amount of even lighting to the building interior.  The hot-dipped galvanized steel superstructure framework is site-specific engineered to stand up to the environment in any part of the globe, wherever your oil and gas business goes.
Find out what makes a Pavilion Fabric Building right for your industry.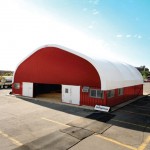 For temporary and relocatable structures for your field sites see our Shop In a Box product combining mechanical workspaces, vehicle storage, and warehousing with office space and/or employee accommodations.
Anti Corrosive = Longer Lasting
Fabric covers will not rust. In a corrosive environment some roof and wall systems become essentially a short term disposable product. Pavilion fabric building covers extend the useful life of your building.  The steel truss systems are all post welding hot dipped galvanized for premium rust protection.
Less Maintenance = More Time
Many traditional building designs require extensive maintenance, year after year. Painting, shingling, and stopping leaks are common maintenance activities on many buildings. Pavilion fabric building covers have U.V. inhibitors to resist color fade by the sun and do not require painting.  If, after many years of use, a cover needs to be replaced the old building cover is removed and replaced with a new cover, often in less time than would be required to shingle or re-tar a roof.
Quicker to Install = Quicker to Work
From foundation to finish, Pavilion fabric building installations are typically measured in weeks, not months. Some models and sizes can be completed in less than a single week.   Because the buildings are pre engineered, building components are modular and designed to get your building and your business, in use with minimal construction time.